As per our commitment to excellence, tell our expert skin care specialists all about your concerns and wishes for your skin, during your thorough pre-treatment consultation and after listening carefully, we will combine your goals with our close up analysis of your skin and then select the best matched treatment for you.  Our goal for your skin is to experience noticeable results based on a highly informative yet relaxing approach.
As practice makes perfect, we will also recommend best home skin care routine advice for you as well.
You choose your facial treatment time and budget preference, and once you arrive, our skin care team will select and perform a truly customized treatment to benefit your skin best.
At Sugar Savvy, we welcome all genders, backgrounds and ages.  As human skin biology goes through a complete cycle every 30-40 days, we highly recommend monthly facial treatments, for best results.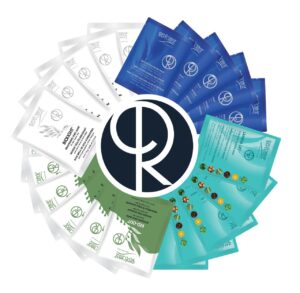 Repechage Seaweed Based Skin Care Line:
Thanks to its renowned product and treatment success globally since 1980, Sugar Savvy uses Repechage seaweed based skin care line, exclusively.
Originating in France, Repechage means second chance.  Skin becomes re-born with seaweed's potent concentration of 42 trace elements and minerals, 12 vitamins and a whopping 18 amino acids and anti-oxidants.
Paraben free, gluten free, fragrance free, dye free, organic ingredient sources where possible, sustainably hand-harvested, Repechage combines what are known to be the best sourced skin care ingredients from land and sea.  This multi award winning skin care line is gentle yet powerfully performing.  It can sooth the most sensitive of skin conditions as well as renew and reveal a younger, glowing you, via glycolic resurfacing.
Reaching the highest global standard of manufacturing operation, Repechage single dose professional packaging method ensures no chance of container contamination.  Which is exceptionally important at this time.  What you will receive is a newly opened product with every step of your facial, and a freshly mixed mask, every time.
Welcome to beauty from the sea!
Our Facial Services Offered
30 min Custom Express Facial
For those on the go or in need of a quick skin health boost
60 min Custom Full Facial
The real deal.  A full hour of tailored skin treating goodness.
90 min Signature Skin Savvy Facial
Time to indulge.  Treat your skin to the ultimate experience of targeted skin condition improvements combined with all of the extra pampering you deserve.
Click the link below to book your Facial Today!