Meet the Team
---
The Sugar Savvy Team
When you visit Sugar Savvy, you'll meet some or all of our team. Emilie, Ashly and Shauna love what they do, and would be happy to show you around. Each of them can answer your questions, and would like to welcome you every time you walk in the door. You can feel at ease, knowing you're in good hands, and that you'll be well taken care of in the most professional manner possible.

Emilie, Owner
Interested in sugaring for many years, Emilie opened the Sugar Savvy salon in Kitchener in 2016 and is excited to be part of Belmont Village. Though running Sugar Savvy is her daytime gig, she has a strong passion for helping the community too and runs a bi-weekly respite program for disabled children at a non-profit agency in Kitchener. She loves giving back to the community (and loves spreading the word about how amazing the art of sugaring is!)

Ashly
Ashly is excited to be a part of the Sugar Savvy team. She comes with a wealth of experience as a Certified Eyelash Technician & Certified Sugarist. She loves serving the community of Kitchener-Waterloo through her amazing lash and sugaring talents. Her smile is contagious! When she is not busy working at the salon, she loves to volunteer her time with various charities in the community.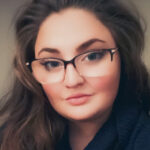 Courtney
Courtney is thrilled to be a part of the Sugar Savvy Team! Having always had a knack for aesthetics, Courtney is excited to finally be embarking on this new journey. She successfully completed her sugaring certification in August 2022 and is already loving it and enjoying every new client she meets. Courtney is also a St. Tropez Spray Tan artist. Having used the product line personally for over 10 years she is delighted to be sharing her knowledge and love for the products with her clients.